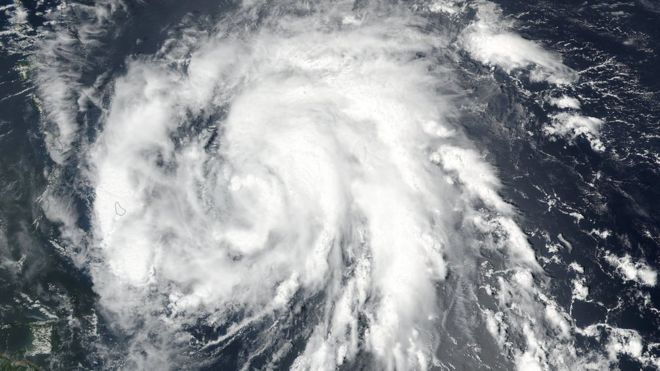 Maria is expected to become a dangerous major hurricane as it nears the Leeward Islands in the Caribbean. It has been upgraded to a category two hurricane, and is forecast to hit the islands late on Monday, the US National Hurricane Center (NHC) says.

It is moving roughly along the same path as Irma, the hurricane that devastated the region this month. Hurricane warnings have been issued for Guadeloupe, Dominica, St Kitts and Nevis, Montserrat and Martinique. A hurricane watch is now in effect for Puerto Rico, the US and British Virgin Islands, St Martin, St Barts, Saba, St Eustatius and Anguilla.

Some of these islands are still recovering after being hit by Irma - a category five hurricane which left at least 37 people dead and caused billions of dollars' worth of damage.

In its latest update on Monday, the NHC said that Maria had maximum sustained winds of 175 km/h (110mph). The eye of the storm is 100 miles east of Martinique, and Maria is moving west-northwest at about 13mph.

"Preparations to protect life and property should be rushed to completion," the NHC says.

The most southerly point of the Leeward Islands - where Maria will first strike - includes Antigua and Barbuda. The latter island was evacuated after being devastated by Irma.

The NHC says that "a dangerous storm surge accompanied by large and destructive waves will raise water levels by as much as 1.5-2.1m (5-7ft) above normal tide levels near where the centre of Maria moves across the Leeward Islands". It also forecasts a maximum potential rainfall of 51cm (20in) in some areas of the central and southern Leeward Islands - including Puerto Rico and the US and British Virgin Islands - through to Wednesday night.

"Rainfall on all of these islands could cause life-threatening flash floods and mudslides," it warned. Earlier this month, Irma left more than two-thirds of homes on the Dutch side of the island of St Martin (known as Sint Maarten) uninhabitable, with no electricity, gas or drinking water. The French government has said its side of St Martin - known as Saint-Martin - sustained about €1.2bn ($1.44bn; £1.1bn) in damage, with nine deaths across Saint-Martin and nearby St Barts.

On the British Virgin Islands, entire neighbourhoods were flattened.

After a visit to the area, British Foreign Secretary Boris Johnson described the damage as something "you see in images from the First World War". Virgin boss Richard Branson, who has a home in the Virgin Islands, has been tweeting ahead of the Maria's predicted arrival, warning people to stay safe.
Caribbean islands braced for major new hurricane
Reviewed by
Nene Sochi-Okereke
on
Monday, 18 September 2017
Rating: