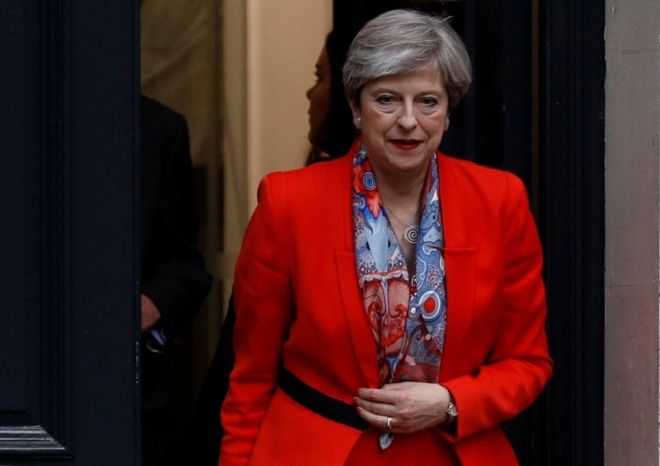 The UK has woken up to a surprise election result, after Prime Minister Theresa May's election gamble backfired.
The PM had hoped to increase the Conservatives' majority in Parliament so they had a stronger mandate to deliver Brexit.
But now the country looks set for a hung parliament, after her party ended the night with fewer seats than before.


The result has sent shockwaves around Europe and beyond.

European Union Budget Commissioner Gunther Oettinger has questioned whether talks on the UK's departure from the EU can now start on 19 June as planned.
"No government - no negotiations," he told German broadcaster Deutschlandfunk.


Sweden's former Prime Minister Carl Bildt, who now chairs the European Council on Foreign Relations think-tank, called the outcome "messy".
"One mess risks following another. Price to be paid for lack of true leadership," hetweeted.


Brexit negotiator Guy Verhofstadt, who is president of the Alliance of Liberals & Democrats for Europe in the European Parliament, had caustic words for Mrs May.
Yet another own goal, after Cameron now May, will make already complex negotiations even more complicated," he tweeted.
Michel Barnier, the EU's chief negotiator for Brexit, had a more conciliatory message. "#Brexit negotiations should start when UK is ready; timetable and EU positions are clear. Let's put our minds together on striking a deal," he said.


Mr Barnier also retweeted European Council President Donald Tusk, who alluded to the March 2019 deadline for Brexit talks.
"We don't know when Brexit talks start. We know when they must end. Do your best to avoid a "no deal" as result of "no negotiations", he wrote.
Former Finnish Prime Minister Alexander Stubb and senior German MP Stephan Meyer both said Britain should be given time to form a stable government before Brexit negotiations start.


"It means instability for Britain," Mr Meyer told German radio. "Officially Theresa May is still the partner in Brexit negotiations, but the political reality is different after this disastrous defeat. I can't imagine that May will be able to remain prime minister."
The EU's foreign policy chief, Federica Mogherini, said it was uncertain when Britain would have a clear Brexit strategy.


"One year after their referendum, we still don't know the British position in the negotiations on Brexit and it seems difficult to predict when we will, because democracy often requires time," she observed.
Leaving politicians for the press arena, German tabloid Bild ran the headline "Election blow for Theresa May," while Frankfurter Allgemeine Zeitung and Die Welt chose "May-Day".


"The voters of the United Kingdom are insecure, angry and upset," observed Frankfurter Allgemeine, calling it "a vote against a hard Brexit".
Elsewhere in Europe, Italian daily La Repubblica declared: "May's gamble fails, loses her majority", and noted that voter turnout was the highest for 20 years at 69%.
France's Le Monde observed that the pound has fallen against the dollar, and that the British economy had already seen the lowest growth of any G7 country during the first quarter of the year.


It added that Mrs May's party should brace itself for protracted coalition talks, which "may last for weeks".
Commenting on the Labour Party's result, Le Figaro praised it as an "impressive rebound". It also said that, given Jeremy Corbyn's "spectacular and powerful comeback", he could now "assert himself as a kingmaker".


Indian headlines also concluded that the result was a setback for Theresa May, with the Hindustan Times calling it a "stunning blow" for the prime minister.
Congratulations to Corbyn

Labour boosted its number of seats by 29 overnight, exciting Corbyn supporters abroad.

US Senator Bernie Sanders, the former Democratic presidential candidate, told the Washington Post he was thrilled.
"I am delighted to see Labour do so well. All over the world people are rising up against austerity and massive levels of income and wealth inequality.
"People in the UK, the US and elsewhere want governments that represent all the people, not just the 1%. I congratulate Jeremy Corbyn for running a very positive and effective campaign."


Bill Shorten, leader of the Australian Labor Party, made similar observations, telling reporters:
"One of the things which my counterpart, the Labour leader in the United Kingdom, did is he campaigned and his slogan was 'For the many, not the few.'
"I think Mr Turnbull [Australia's prime minister] would be well advised to look at the popularity of that message."


Former Belgian Prime Minister Elio Di Rupo also tweeted his approval, writing: "Congratulations to @jeremycorbyn for its positive campaign and to the Labour Party for its good results #UKElection2017"
Martin Schulz, former president of the European Parliament, congratulated Mr Corbyn, saying they had spoken by phone and agreed to meet soon.


In Russia, state-owned news agency RIA Novosti is claiming the Conservatives will not forgive Theresa May for the result, and predicts a new prime minister.
On the morning of 9 June, state-run rolling news channel Rossiya 24 called it "Theresa May's devastating defeat."


BBC
UK Election Result: British PM Theresa May is now facing calls to resign; How the world reacted
Reviewed by
Nene Sochi-Okereke
on
Friday, 9 June 2017
Rating: